Honorary Chair: Leon Panetta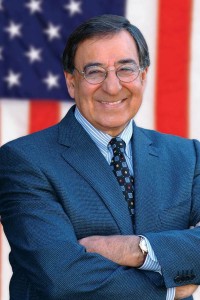 Monterey native Leon Panetta graduated from University of Santa Clara Law School and began his long, distinguished public service career in 1964 as an U.S. Army intelligence officer. Upon discharge he went to work for Senate minority whip Tom Kuchel in Washington where, in 1969, he was appointed director of the Office for Civil Rights. After returning to Monterey, Secretary Panetta was one of the local attorneys who founded Monterey College of Law. He was on the first Board of Trustees and a member of the Faculty, teaching the first-year Torts class. He practiced law until his 1976 election to the House of Representatives, where he served for sixteen years.
Secretary Panetta left Congress in 1993 to serve as Director of the Office of Management and Budget and, a year later, he became President Clinton's Chief of Staff. He is credited with bringing order and focus to White House operations and policy making.
In 1997, Secretary Panetta joined with his wife Sylvia to establish and co-direct The Panetta Institute for Public Policy, based at CSUMB. Reflecting the Secretary's ideals and personal example, the nonpartisan, not-for-profit study center seeks to attract thoughtful men and women to lives of public service and prepare them for the policy challenges of the future.
He returned to Washington in 2009, first as Director of the Central Intelligence Agency and, then, as Secretary of Defense. He returned to The Panetta Institute as Chairman in 2013 and chronicles his life in public service in his best-selling memoir Worthy Fights, published in 2014.
Over the years Secretary Panetta has served on numerous boards and commissions. He co-chaired California Forward, the Joint Ocean Commission Initiative and Governor Schwarzenegger's Council on Base Support and Retention. In 2006, he served on the Iraq Study Group, a bipartisan national commission, and currently serves on the boards of directors for Oracle and Blue Shield of California. He also serves as co-chair of the Bipartisan Policy Center's Defense Personnel Task Force and the Center for Strategic and International Studies Commission on Countering Violent Extremism.
Secretary Panetta is the recipient of hundreds of awards and honors. Recent examples include California Forward's Forward Thinker Award; the California Teachers Association's Friends of Education Award; the Judicial Council of California's Stanley Mosk Defender of Justice Award; The Harry S. Truman Good Neighbor Award; the Sons of Italy Foundation's National Education & Leadership Award; the Peter Benchley Ocean Award for "Excellence in Policy"; the Intelligence and National Security Alliance's William Oliver Baker Award; the Italian Community Services' Distinguished Service Award; The OSS Society's William J. Donovan Award; and the National Defense Industrial Association's Dwight D. Eisenhower Award.